This isn't really a "gifts" page in the traditional sense. Not being an artist I generally cannot offer "gifts" to other creators. It can be a little disappointing to not be able to show appreciation the way others do but that is just the way it is. I make u for it (I hope) by providing bases and by filling the occasional request.
Alien Terrain for Just Denise (rug based)
Just Denise needed some quick alien terrain for, if I remember correctly, a contest build. I whipped up a set of colorful rugs but I've always wished I'd come up with something better for her. So now I've added another batch of grasses that she can mix and match with the old ones or use as a bit of scraggly growth on their own. (I had so much fun with it that I'd not be surprised if an Alien Landscapes page doesn't somehow appear on the site this year)
"Anywhere" Crumplebottom Chandelier (gold recolor) for Zero35
By request: I've offered a recolor patch of the Crumplebottom Chandelier for FreeSO and Zero35 asked that I make the same recolor available for TS1. I decided to also upgrade it from a ceiling light clone to one of our Anywhere Lights while I was at it :)
object maker's note: Free to clone. However I ended up changing the the alphas a tiny bit to get the right look with this gold. If you find your re-coloring is not behaving quite the way you'd like, try the sprites from the original chandelier and see if using those alphas works better for you.
Graveyard Grub food cart for N99
The Graveyard Grub food cart is a set of three objects: a new 2-in-1 Magic Town food cart (selling both goulash & gumbo) and matching counters, one of which is also a new 3-in-1 hack. (A couple of new 3-in-1 counter bases have been added to my bases page for cloning)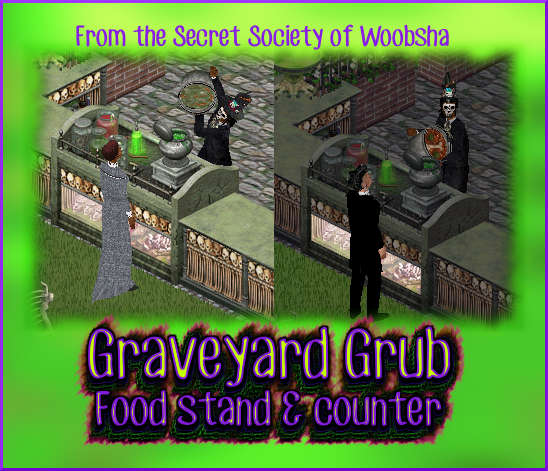 The Graveyard Grub Set can be requested at N99 Sims 1 POBS section
http://starlightsims.yuku.com/topic/75301/Graveyard-Grub-Foodcounter-Halloween-2015
Oona's Kitchen Add-ons for Aponee Simz
A couple of hacked objects to go with Aponee's ghoulishly great witch's kitchen: an open-shelf (non-electric) 'fridge' complete with a cookbook and a unique trash "bin".
Diagonal Chair Patch for Aponee Simz
Aponee and others have made some really cool "diagonal" chairs - chairs turned to face the camera so they can be placed into corners. This patch allows your Sim to sit in those and face in the correct direction. The zip contains an iff with one SLOT resource. It may be imported into chairs, overwriting their existing one to change the way Sims are seated in those chairs. The chairs will work exactly the same as they always have in all other ways.
Please note that it is a bit rough DURING them sitting down. I was not able to route them to the diagonal corner to sit down .... they still need access to the front of the chair. After sitting they snap into the correction direction.
Knowing many people prefer to not patch their objects, Aponee created this diagonal chair as a base for cloning.
Ice Skater Spawner for Aunt B
Aunt B made some nice little set of 8 animated ice skaters for the frozen pond on her Winter Retreat Lot, so I created a little pile of snow for her that will automatically summon the iceskaters randomly without you having to buy/sell them from the buymode.
Tiki Mask with Glowing Eyes for NanaWildflowers (wall light)
Originally available at Simblesse Oblige
Nana thought the tiki wall art could be improved with glowing eyes. Boy was she right!! I converted it into a wall lamp and also made the eyes continue to glow even when the the light is off and the room is dark. (I'm so pleased she thought of this. It's one of my favorite objects)
Pony-sims Food for Prince Avalanche
Prince Avalanche plays a unique themed game. The residents of his sim town are all equine. This often requires some rather unique adaptations of objects. Instead of having his ponies sit at a table like humans, he wanted them to eat as ponies would. This a flowerbed that Sims, Ponies, and Pets can all eat from. It requires Unleashed
If you are interested in this theme then you probably already have the extremely impressive equine skins for adults and children (many inspired by this same game) available from Simblesse Oblige, but here's a link to them, just in case you need it.
Magictown Magic Mailbox skin
For use with Magic Sims Magic mailbox replacement system
This is a replacement mailbox meant to be placed over an invisible default mailbox from Magic Sims. If you use this box, it will not open when you get mail delivered or when you pay your bills. However, this system allows you to have any number of custom mailboxes.
Download at Simblesse Oblige: http://www.simblesseoblige.com/viewtopic.php?t=7127
Alternative Direct Download Here: Magictown Magic Mailbox skin
Faux Magictown Mailbox (Deco-Only)
Add additional Mailboxes to your lot (or for those who do not use the Magic Sims Magic Mailbox system)
Faux BBQ Grill for counters (Deco-Only)
For Decorators; Create a quick matching 'BBQ grill' for any counter
BASE for animated "anywhere" decor

(Well, almost "anywhere". It does not float in the air but it can be placed on pools, ponds, slopes, terrain or flooring. No EP required.

Forever Baby crib for Simblesse Oblige's 2nd Anniversary

Luau Living Cabana (Contest Entry)

Categorized as a shower, but pulls double duty as either a shower or a clothes changing booth (which also raises hygiene a bit). No EP required but also Retains HD+ Wardrobe Changes Created for Simblesse Oblige's Luau Living challenge.

Due to the nature of this challenge there's a LOT of matching objects. Definitely check out the entire challenge thread (both years)

Crumplebottom Memorial Park in Old Town (Lot 72) for Yersinia

This lot was made especially for Yersinia, who expressed an interest in allowing her sim families' kids hang out in Crumplebottom Memorial Park. Since the original is located in the Downtown area kids are barred from the place. This is a copy of the park, re-located to Lot 72 of OldTown.

Some things to note:
You'll need to pop into the lot and write your own description of the place.
There are no accommodation for pets in this park. You'll need to add those yourself.
Remember to make sure Lot 72 is zoned as a commercial lot before installing this lot into your neighborhood.
This lot requires Hot Date and Unleashed.