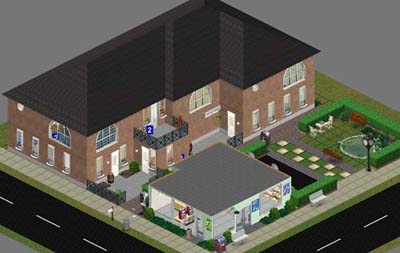 6 Sim Lane
The Hollymont Apartments :
A 3 unit apartment building with corner store and park.
This lot is furnished with objects hacked to work in association with the Sim Logical Apt System and requires that you have the Apt Controller and Room Token from Sim Logical installed in your game. Make sure all items listed on the shopping list (below) are installed before running the game entering this lot.
Screenshots shown with Apt. tokens visible (the squares with 1, 2 & 3 on them) so you can see which unit is which. The Apt. controller allows you to toggle the tokens to invisible during gameplay.
The Hollymont was built with all EPs installed: if you don't have all EPs these lots may not work properly for you.
Apartment 1: One bedroom and one bath on the first floor.
Apartment 2: One bedroom, 1 1/2 bath on the second floor.

Apartment 2 also features a small balcony.
Apartment 3: a loft, with livingroom, kitchen & bathroom on the first floor .....
... and a loft bedroom with bath on the 2nd floor.
The Common areas include a small shop and park for skilling and socializing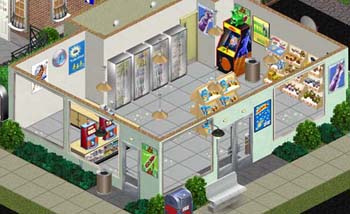 Shop on the corner has beverage & snack displays your Sims can use
Park features S.S.o.W. Practice basketball hoop to earn body skill, and a chess table to earn logic, while socializing with neighbors.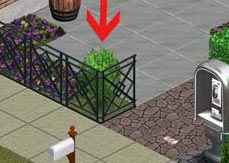 The Apt controller (which looks like the Maxis hawthorn shrub), is located near the front of the lot, by the doors for Apts 1 & 2, just a couple of steps from the mailbox. It is the only hawthorn bush on the lot.
A mailbox & phone booth transporters are also included to help move your sims onto the lot.
SHOPPING LIST for the Hollymont Apartments at 6 Sim Lane
Apt Controller & Token


From the Apt Doors & Stairs section:

White Federal Apt Door (white door with square window)
Apt stairs (straight style)

From the Apt Plumbing section:

Apt bathtub
shower
white pedestal sink
white counter sink
silver kitchen sink

From the Apt Seating section:

Desk chair
Dive bar dining chair for Apts (black & metal chair)

From the Apt Electronics section:

Moderate TV
Moderate Stereo
computer

From the Apt Misc section:

Apt Easel
Invisible NPC door. There are 2 invisible NPC doors placed on this lot, they allow cleaning and repair NPCs to move more easily between apts. The door is completely invisible when the walls are up, and when you play walls down, you can see a door gap by the floor where the door is.
From Sim Apartments Group

From Files/Calisims Apt Objects/Kitchen

City Rain kitchen (aptkitchcityrain.zip )
Sunny Kitchen (aptsunnykitchen.zip )
Vie Moderne Kitchen (viemodernekitchen.zip )

From Files/Calisims Apt Objects/Livingroom

Deco seating in Mocha & Steel (aptseatdecomocha.zip)

From Files/Apt Objects from Deviant Sim/Seating :

Basic Black seating for Apts (aptbasicseatblack.zip)
From Secret Society of Woobsha:

From S.S.o.W. for Apts/Appliances

From S.S.o.W. for Apts/Skill Objects

From Maxis Objects for Apts

From S.S.o.W. Better Living / Better Skilling:

From S.S.o.W.Better Living / Better Outdoors:

From S.S.o.W. Shops and Market / Convenience Store Set:
Architect & Designer: Melissa